Lacey
The free Music & Video downloader
For Windows ·
Version
2.90
·
2 months ago
·
33.2MB
·
VirusTotal Report
·
New: mezzoforte.ru added, mixcloud.com, sleymp3.ru and youtube working again, Per-Monitor DPI support added
Do you like the software? Make a Donation! You don't need to have a paypal account in order to make a donation.
Download your favorite music and video for free. Just enter an artist name or song title and press 'Search'.
Press 'Search Albums' to search and download a complete album.
Lacey is a simple and easy-to-use music and video download application. It helps you download music and video files from YouTube and several other websites for free.
You can download the entire playlist from YouTube. Just enter the YouTube playlist website address and Lacey will download all or selected videos in the playlist for you.
Lacey supports simultaneous downloads. You can download up to 10 videos at a time.
With the built-in simple music player, you can listen to the downloaded music files directly in Lacey. After downloading videos, you can easily watch them with any media player even if you don't have internet access.
If you only need the audio of a video, Lacey can extract the music and save it in MP3 format.
Use vkontakte, mail.ru and baidu to download free MP3 files. Get videos and convert them to MP3 from YouTube and Vimeo. Listen to music mixes from SoundCloud, MixCloud and BandCamp. Watch movies from ARD, ZDF, Arte, Kika and Phoenix.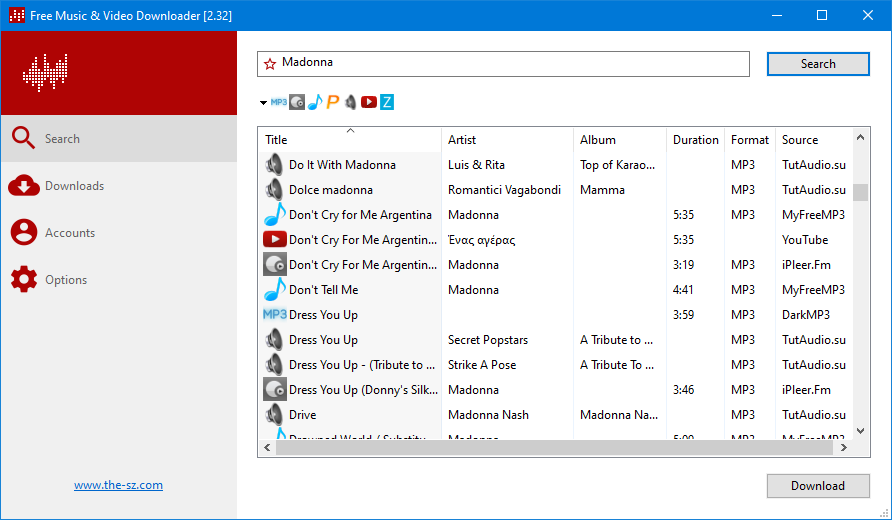 You can press 'F3' or 'Ctrl'+'F' to filter the search result.
All downloaded files are named like 'Artist - Title.mp3'. ID3 tags are automatically generated. If you check the 'Deep folder layout' option, the files are stored as '\Artist\Album\Artist - Title.mp3'.
You can choose whether cover images should be downloaded.
Enable the download of 4K YouTube videos.
Supported Languages

Arabic

Czech

English

French

German

Greek

Hungarian

Italian

Polish

Portuguese

Russian

Simplified Chinese

Spanish

Swedish

Ukrainian
Supported Operating Systems
Windows 11
Windows 10
Windows 8
Windows 7
Windows Vista
Windows XP
Windows 2000
Windows Server